BMseries film evaporator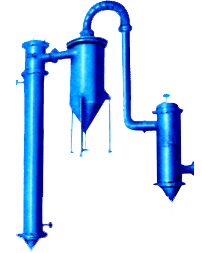 the film evaporator unit fromthe evaporator,the vapor-liquidseparator, pre- heatthree parts and asimpleseparator composed of rising film evaporatortube heat exchanger.the evaporator has a large capacity, high efficiency, material heatingtime isshort andso issuitable for pharmaceutical, food, chemical and other industriesdilutesolution is concentrated,the equipment and material contact parts are made ofstainlesssteel with good corrosion resistance,durable, meetthe health requirements ofdrugs.
Note: wherethe highslot, rotameter, hydrophobic, process valves, piping bythe usersthemselves. For agents,specify when a contract.
maintechnical parameters
2.2M2
5.5M2
8M2
12M2
16M2
20M2
30M2
40M2
60M2
Evaporation area (M2)
2.2
5.5
8
12
2.2
20
30
40
60
Preheat area (M2)
1
2.17
4
6
1
10
15
20
30
steam working pressure (MPa)
2.4
0.4
0.4
2.4
0.4
0.4
0.4
0.4
0.4
Availablesteamdegree (kpa)
6
60
60
60
6
60
60
60
60
Evaporation
140
350
550
850
140
1500
2100
2800
4200
Energy consumption (kg / h)
155
385
605
935
155
1650
2310
3080
4620
Media
device weight (kg)
300
520
750
1020
300
2300
2950
4500
5700
dimensions length × width × height (mm)
2000
× 850
× 3500
2300
× 800
× 3500
2700
× 950
× 4500
2000
× 850
× 3500
2900
× 950
× 5200
2800
× 1400
× 5300
3800
× 1800
× 6050
1200
× 1800
× 5050
5000
× 2000
× 5700